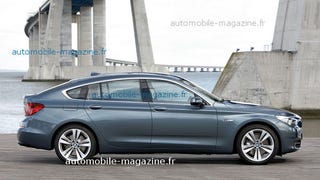 BMW plans for boosting and lifting automotive rear ends continue with the BMW 5-Series GT. While we already saw the concept in Geneva, these are the first official shots of the production version, set to debut at September's Frankfurt Motor Show and go on sale in early 2010.
What kind of drunken mess occurred in the creation of the 2010 BMW 5-Series GT? The sketches below indicate the Concept CS, X6 and 5-Series mated to create this carefully designed mutant love child.
Our friends at BMWblog got photos from the preview of the 2009 BMW 5-Series GT Concept prior to its official debut in Geneva. Thankfully Bangle finally moved aside so we can show the new design.