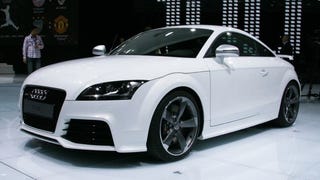 It's official, the 2010 Audi TT RS has a turbocharged direct-injection inline-five cylinder which makes 335 HP and 331 lb-ft of torque. It does 0-to-62 MPH in 4.7 seconds and returns 25 MPG. Swoon.
The first official shots of the 2010 Audi TT RS, set to debut in Geneva, reveal a sportier appearance to match the turbocharged 340 HP 2.5-liter inline-five cylinder engine.
Thanks to our friends at Carscoop, we've now got more than just teaser shots of the coming-to-Geneva Audi TT RS. We've now got all the unofficial details and the first fully-nude photos of Audi's super-TT.