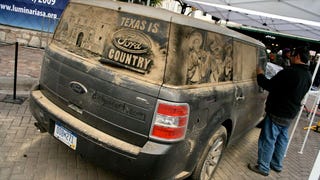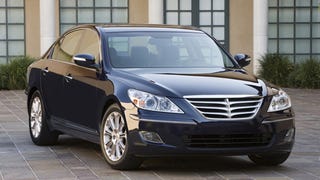 The 2009 North America Car and Truck Of The Year finalists, announced today, features the Hyundai Genesis, the first finalist from a Korean automaker. The awards will be presented at January's Detroit Auto Show.
Seems one of the 31 metro Detroit Ford dealers has gotten cute and worked up a Ford Flex woody to entice customers in to buy the station wagon/van/crossover. According to Motor Trend's Todd Lassa, the Flex in question is your basic stripper model, so the woody option makes it all the more innuendo-tastic, but that's…
The new 2009 Ford Flex has scored five-star safety ratings from NHTSA in all four front and side-impact tests. The Flex numbers beat those of the rival Toyota Highlander, which received a four-star rating for the passenger in frontal tests. Ford also scored a four-star rating in the rollover test using both 2WD and…
According to the Blue Oval folks, Ford Flex was the seventh most popular search term on Yahoo last Sunday, and the only vehicle in the top 10 most-searched topics. We're not really sure why that's news, but Ford seems pretty excited about it. Our thoughts? Well, we're happy they're happy — we don't know what more…
Wes and I spent yesterday at a very Flex-ible Ford event in the Big Apple, and before we hit the road, we had a chance to sit down with some other journalists and break bread with our new mishpacha, Ford's chief creative officer J "Boss Of Big Balls" Mays. While other journalists were busy munching on mozzarella and…
Ford is taking a page out of Subaru's book and will be partnering with Sony for a factory-installed in-car entertainment system. The first model will be a Ford Flex, much like the one we received the chauffeur treatment in, and it will be on display at the Sony Style store on Madison Avenue in New York City.

Despite the news of the eminent demise of the Ford Taurus X, we're now not as concerned because we just got our first ride in the 2009 Ford Flex. A very hip Ford rep dropped by our extremely touristgasmic digs near Times Square to give us a ride over to dinner and get a little free press for Ford's new hauler. Despite…
According to the very fine people at Car & Driver, Ford CEO Alan Mulally confirmed that it would be the Lincoln brand that would get the next derivative of the Ford Flex seven-passenger crossover minivan replacement. This goes against rumors that it would be Mercury that would be getting a version of the Flex.
Just for SEMA, Ford's let two designers have their way with their new people mover, the Ford Flex. First up is none other than the star of "Foosical: The Musical," Chip Foose. He's put his personal touch on the Flex by dropping Foose Design 22-inch wheels on the feet, and Eibach springs customized for "a lower…
It looks like Ford was Flex-ing their new minivan replacement for 2009 down in San Antonio, Texas. Jalopnik reader Hernan caught this here prototype making its way through the downtown city streets the other day looking very Dave-like in the rear-view mirror of what we're assuming is the family truck. We don't know…