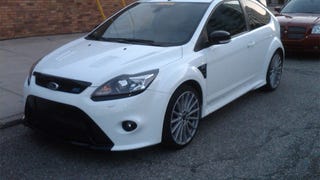 FocusFanatics forumite 2004SVTAutoXer was out with his lady in Royal Oak, MI when he spotted this rally-ready, turbocharged, M-plated, Euro-spec 2009 Ford Focus RS. Needless to say, he was a bit excited. So are we.
A 2.5 liter turbocharged five cylinder with 300 horsepower, searing green paintjob, Revoknuckles, Recaro buckets, six speed transmission... perhaps the lustiest forbidden fruit in the hot hatch world right now, it's the 2009 Ford Focus RS. We know it reeks of boy-racer looks but we don't care. We just want to pretend…
The 2009 Ford Focus RS was first seen as a concept in London earlier this year wearing an arresting green skin. Now the not-for-American-consumption production version shows off some blue metal in the gallery below.
Ford looks to have a winner on its hands with the 2009 Focus RS, as the company has taken approximately 1,000 orders for the 275 HP Matchbox car. No matter whether you're a fan of the scooptastic SEMA-style bodywork or not, you can't argue with 295 lb-ft of torque flowing through a 6-speed stick in a little rocket…
Turns out the Electric Green Ford Focus RS we saw last week is more than just a show car. Ford has admitted the little green hulk is essentially the finished vehicle, minus some fine tuning. Now, depending on which side of the fencepost you sit on, an inline-five with 275 HP and 295 lb-ft of torque mated to a…