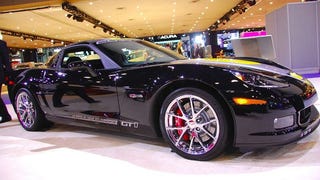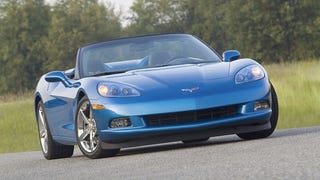 A: Don't hit stuff with it. What? Is there more to it than that? [WSJ]
Jalopnik sources tell us pricing on the 2009 Corvette Competition Sport's now official. The Z51-equipped 1LT will run $55,655 and the Z06 model will cost you $77,500 including charges.
Although we first saw n2a Motors' Anteros back at SEMA two years ago along with the 789 retro-rod. Well, the custom coachbuilder's got a brand new bag of C6-modified tricks up its sleeve. The custom carmaker's bringing the latest version of the Anteros to the LA Auto Show later this month. This new Anteros hotness is…
With GM hotshoe Jan Magnussen in the cockpit of Zee Really fast One, the General's hypercar trimmed a staggering four seconds off its previous record-breaking lap time, bringing in a 7:22.4 lap around the 13-mile circuit. Although blisteringly quick, the ZR1's new time still falls short of the Viper ACR's best time of…
From the "now you know it's bad" files, the Corvette assembly line in Bowling Green, KY will shut down for the week of October 6, then restart at a reduced line speed of 15 cars per hour, down from 18.5 now. Automotive News claims the stoppage will be the first inventory-related closure of the line since 1995, and…
The much-anticipated 2009 Corvette ZR1 began production, as the first unit finished the assembly process and was delivered to Chevy dealer Dave Ressler during a press event in Bowling Green on Monday. What, you didn't notice? Well, it seems the build coincided with the unveiling of the new Chevy Camaro, forcing the…
Now that the 2009 Corvette ZR1 has set a lap time of 7:26.4, we've been trying to wrap our heads around just how fast that really is. Sure, it's faster than the GT-R, but we're wondering if there's anything that can make the ZR1 look slow. With the caveat that lap times vary depending on track conditions and driver…

Will Kid Rock's celebrity rub off on the Corvette ZR1? We're not sure, but that guy's a friggin' rock star, no doubt. Just look at all those girls on stage. They just get it, you know?
Oh yeah, that's it baby, that's it — work it girl! Work — oh wait, something's not right. We know why — that's not a model up there. Nope, it's the 2009 Corvette ZR1 — unveiled here at the GM Style event tonight for it's first ever public unveiling. For a moment we thought maybe it was just some insanely beautiful…
Guess we know for sure now that not only does the new 2009 Chevy Corvette ZR1 have a polycarbonate hole in the hood, we also know for sure exactly how big it is well in advance of the debut at the Detroit Auto Show. We also know it'll show off — umm — gray plastic? Umm — right. Anyway, thank you very much random…
Chevrolet's reputed 650-horsepower 2009 Corvette's been called by enthusiasts the "Blue Devil," the "Super Sport," the "Mako Shark," the "Z07" and all sorts of other monikers — but according to Todd Lassa, Motor Trend's Motor City Blogman, the up-powered 2009 Corvette will be officially called "ZR1." It's a badge…