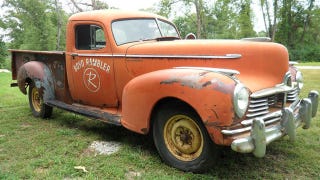 Although it's generally accepted the Ranchero was the first of the car/trucks, Hudson produced a more utility based truck using the front sheet metal from their cars in the late 1940s. The result was a unique mixture of car and truck that predated the Ranchero by 11 years. This very original example of a rare Hudson…
Welcome to Project Car Hell, where you choose your eternity by selecting the project that's the coolest... and the most hellish! You know what's missing from your grim, purposeless life? Straight Eight power!
This 1947 Ferrari 166 Corsa Spyder is one of the rarest cars in existence and also considered to be the oldest, completely original Ferrari. We've got 32 stunning, detailed images for you to drool over.

When you see "Denver" in the title, you might figure you're looking at more shots by prolific DOTSBE photographer Kitt. But hold on- now we've got two readers shooting interesting vehicles on the streets of John Fante's hometown. We've got Kitt covering the south side of town and ejacobs working the northwest…
Murph sent this in as a possible PCH car, but we think it deserves its own post. You think your '52 split-window Volkswagen Beetle is rare? Ha! How about this super-original 1947 Beetle in Allied Occupation Forces colors, which we first saw when the Loverman photographed it at a swap meet last summer? Yes,…
You know I was reaching for the camera in a hurry when this car loomed into my field of vision. This Plymouth is owned by the guy who has the Creamsicle '54 Ford we saw a while back, and I can say from firsthand experience that the copper paint job looks perfect when illuminated by streetlights after dark. The…