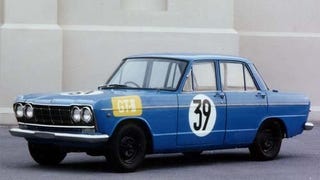 We've been doing the Engine Of The Day series for a couple of years, so it's time we put all 74 EOTD honorees together!
As you already know, The General needs to turn some of its history into cash. Mega-tipster and LeMons photographer UDMan has picked out a half-dozen of the more interesting machines for us.

Welcome to Down On The Street, where we admire old vehicles found parked on the streets of the Island That Rust Forgot: Alameda, California. We're going to end 2008 with the oldest DOTS car yet.

We haven't had an Engine Of The Day for a while, but the Chevrolet Series D V8 engine deserves some attention. 288 cubic inches, overhead valves, crossflow heads… and it was manufactured 38 years before the small-block Chevrolet engine. That's right, Chevrolet had an OHV V8, generating an excellent-for-its-time 55…
You often see a vehicle with an interesting history for sale, but usually you're dealing with something semi-boring like Bela Lugosi's accountant's '47 Plymouth, or maybe an '81 Pontiac that can be seen in the background of a 9-second shot in Breakin' II, Electric Boogaloo. Not so with this 1914 White Motor Company…
Was it the Muppets connection that grabbed an overwhelming 80/20 victory for the Studebaker Starlight Coupe over the 1929 Model A in yesterday's Choose Your Eternity poll? We may never know, because the past is behind us now. And, speaking of the past, how about a pair of cars from waaaaaay back for today's challenge?…