If you shop smart and qualify for the right rebates you can lease the regular Alfa Romeo Giulia for around $299 a month. But if you are in the market for the Quadrifoglio you could be looking at payments upwards of $1,700 a month, making it one of the worst lease values on the market.

This tip comes once again from the excellent pricing experts over at CarsDirect.com and while the normal Giulia can be had for a competitive lease program, the Quadrifoglio is insanely expensive.

Here is what Senior Pricing Analyst Alex Bernstein had to say -

Unfortunately, Alfa Romeo doesn't have any advertised leases on the Quadrifoglio this month. That's in contrast to last month, in which official bulletins indicate the automaker was offering the option to lease through Ally Financial.

The now-expired offer was listed at (brace for it) $1,511 for 24 months with $4,299 due at signing. Like all Giulia leases, this came with an allowance of 10,000 miles of driving per year. Sound simple? Let's take a closer look.
Factoring in both the payment and amount at signing, this equates to an effective cost of $1,690/month. For some perspective, that's compared to $456/month for the Giulia Ti assuming you qualify for this month's $2,750 conquest bonus for coming from a competitor.
G/O Media may get a commission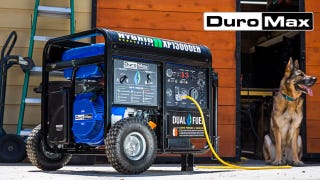 Black Friday Sale
DuroMax Generator Sale
Let's do a comparison to some other high-end performance cars to show just how off the wall that monthly payment is, shall we? The effective lease on a Quadrifoglio costs just under $1,700 a month on an $85,000 car.
The current special for a Porsche 911 Carrera would be an effective lease payment of $1,400 a month but when you look at the fine print the MSRP on a car that would qualify is over $105,000.
By going with the Porsche, you would save $300 per month. yet have a car that cost $20,000 more.

BMW is advertising an effective lease on a 2017 M6 Coupe of $1,729 a month. That is a hair over what the Alfa is leasing for, but let's face it when you are dropping lease payments that look like mortgage payments to many people, an extra $30 or so per month isn't going to make a difference.
However, despite the similar payments, the major difference between the two cars is that the BMW would retail for almost $118,000. So for practically the same payment as the Alfa, you could be driving a car with a $33,000 premium.

It seems the only real benefit to leasing the Alfa Romeo Quadrifoglio is the fact that you are likely to get your money's worth out of the free roadside assistance.