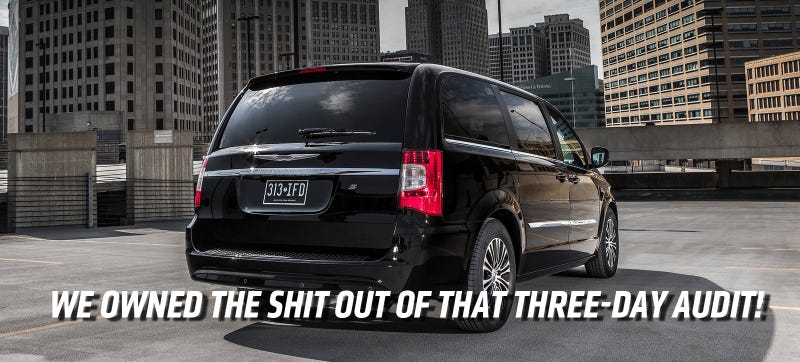 Ball so hard motherfuckers want to award us silver status for our results in implementing World Class Manufacturing operating system! That's what the OGs at the Chrysler Group LLC's Windsor (Ont.) Assembly Plant must be saying on the heels of their kickass award.
Don't even act like you don't know the the plant was awarded silver status just four years after adopting the WCM operating system following a ridiculously insane three-day audit in late March.
You know how hard that shit is? You only get silver after: "Earning a minimum of 60 points in 10 technical and 10 managerial pillars by demonstrating clear WCM know-how and competence through employee-conducted pillar presentations and a review of projects that have been expanded across the shop floor."
You'd probably piss your pants if you even tried to get silver status at implementing WCM, you mark-ass trick. This shit is for grown-ups.
See, if you were even close to being on the Windsor Assembly Plant's level, you would know that WCM is "a methodology that focuses on reducing waste, increasing productivity, and improving quality and safety in a systematic and organized way" and that "WCM engages the workforce to provide and implement suggestions on how to improve their jobs and their plants." But you're not on their level, so take your sippy cups and your Sega Game Gears and run back to your mom's house.
"Accomplishing silver is a significant achievement as it demonstrates a deeper understanding of the WCM methodology," said Mauro Pino, Vice President and Head of Manufacturing/WCM, Chrysler Group LLC. "We couldn't be more proud of our Windsor employees who embraced the opportunity to lead the way for our other facilities."
"Also, suck it, haters," is what Pino probably wanted to add.