Treasury Secretary Geithner announced today Steve Rattner, former Wall Street financier worth more than $188 million, is stepping down after five months in Washington as the President's "car czar." He does know the U.S. automakers ain't fixed yet, right?
Although there's no firm date set yet for Rattner's departure from leading President Obama's auto task force, we're told he's "decided to transition back to private life and his family in New York City."
Makes sense as the task force thinks that, for the most part, the hard work's done — regardless of the fact the real work only begins now. You know, that whole trying to recoup the billions of taxpayer dollars spent on saving the not-so-Big Three. But fear not, we won't be totally czar-less in Washington as Ron Bloom will take over Obama's auto task force although we're assuming he won't necessarily be getting the same revolutionary title given to Rattner by the press corps.
So, note to Fox News — one czar down, many more to go. [via Detroit News]
G/O Media may get a commission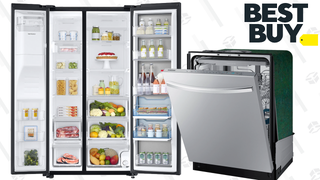 Up to 50% off
Best Buy - Samsung Major Appliance Sale
Photo Credit: Showitortowit.com