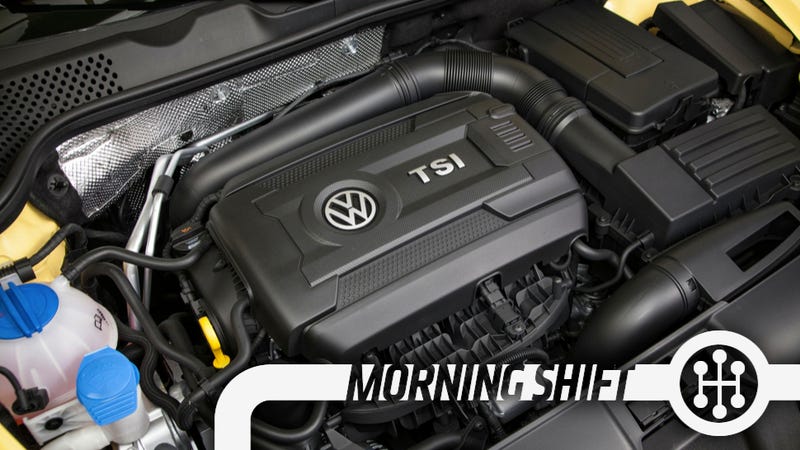 This is The Morning Shift, our one-stop daily roundup of all the auto news that's actually important — all in one place at 9:00 AM. Or, you could spend all day waiting for other sites to parse it out to you one story at a time. Isn't your time more important?
1st Gear: Volkswagen's Third Gen Motor Adds 10 Horsepower
The Mexican-built EA888 Gen 3 turbo will start rolling out this year in Beetle Turbo and Jetta GLI models this year, offering 210 horsepower and 207 lb-ft of torque, which is a 10 horsepower increase over the outgoing Gen 2 engine.
The 2.0-liter turbocharged, direct-injected TSI engine will move a Beetle Turbo to 60 mph in 6.6 seconds, up 0.2 seconds over the previous model. The GLI is 0.1 seconds faster with the manual transmission and 0.2 seconds faster with the DSG. This new mill is also lighter than old engine by eight pounds and slightly more efficient.
If you want said engine in a Beetle, you can opt for the Beetle Turbo R-Line, which adds most of the options and revised front/rear bumpers with 19-inch "Tornado" wheels and Bi-Xenon headlights with LED daytime running lights. That'll cost you a whopping $30,135 if you get it in six-speed variety.
2nd Gear: Ford Isn't The New Hybrid King, But It's Catching Up
Who is the biggest seller of hybrids in the United States? Toyota, of course, with a whopping 58% of the market. Nothing can touch the Prius and no one has gotten close until now, with Ford capturing an 18% share in April. How big of a change is that? According to Craig Trudell, Ford only had 3% of the market this time last year.
What's changed is Ford sold an incredible 3,989 Fusion Hybrids in April and has rolled out the C-Max Hybrid, which I now see everywhere. Toyota, in the meantime, saw Toyota Camry Hybrid sales drop 26% to 3,257 and watched Prius deliveries decline 21%.
Now that consumers have a real choice in hybrid vehicles it seems like the choice isn't automatically a Toyota product.
3rd Gear: GM Making Money The Hi-Tech Way
GM managed to outflank its rivals in the telematics department with its OnStar system, which it launched ahead of many competitors successfully. Yet, it's never been spoken of as a real profit center for the company.
Now, as the Detroit Free Press reports, GM thinks that a new partnership will help transform it "from a safety and security" service "to one that's much more feature-rich, where we get some real money from it."
I.e., by working with AT&T they'll get $20 for every customer who gets 4G in their cars. Having used 3G wifi in vehicles it's more of a novelty than a convenience because the speeds are just too slow. Having 4G in a vehicle, a first if GM pulls it off, could be a massive benefit.
4th Gear: About Those Crown Vics
Despite everyone's abiding love for the Panther platform, the vehicles are not without their troubles (search "Ford Crown Victoria Fire" and you'll get a million lawyer websites who want to take your case). Now we're hearing from the Wall Street Journal that the National Highway Traffic Safety Administration is investigating Crown Vics and Police Interceptors built between 2005 and 2008 for problems with the steering.
The agency said it recorded a total of 15 reports of incidents in which the vehicle's upper and lower intermediate steering shafts came apart. These two shafts connect the steering wheel and rack and pinion assembly that moves the front wheels. If they separate, the driver will lose steering control.
Given the frequency of flaming Panthers I hate to even make a joke about… fiery death.
5th Gear: It's All About The Loans
As we've mentioned before, there's something rotten in the state of consumer car loans. There's everything from usurious interest rates to hidden fees to dealers making higher loans to black and hispanic borrowers who have similar credit scores as other buyers.
According to The Wall Street Journal, the Consumer Financial Protection Bureau and the Justice Department are issuing subpoenas to U.S. auto lenders and probing dealerships in an effort to protect consumers and, hopefully, helping as avert another crisis.
Reverse:
On this day in 1980, 13-year-old Cari Lightner of Fair Oaks, California, is walking along a quiet road on her way to a church carnival when a car swerves out of control, striking and killing her. Cari's tragic death compelled her mother, Candy Lightner, to found the organization Mothers Against Drunk Driving (MADD), which would grow into one of the country's most influential non-profit organizations.
[HISTORY]
Neutral: Who Will Sell More Hybrid Cars In 2015? This year belongs to Toyota and, likely, next year, but is Ford's hybrid growth sustainable? Will Ford overtake Toyota or will someone else (Hyundai?) step up and surprise everyone?
Photo Credit: Getty Images