Laps of Monaco's street circuit are always insane. Laps of Monaco's street circuit where a car that costs more than most of us are worth is driven flat out are even nuttier. The "here's a wall, priceless car, whatever" kind of nutty.
This video comes via Goodwood Road & Racing and features Nissan GT Academy driver Alex Buncombe driving Juan Manuel Fangio's Jaguar C-Type at the Monaco Historique.
Buncombe dominated the Series C race (for sportscars built between 1952 and 1955) and it's not hard to see why.
It's a vintage racecar, though, so he's having to fight it the whole way through, sawing the steering wheel back and forth quite a bit to maintain a smooth line through bends and catching a dab of oppo on the way out of corners.
Close to the barriers. Ain't care. Has to be done to set a fast lap.
It's a thing of beauty. The straight six wail through all of it is pretty sweet, too.
G/O Media may get a commission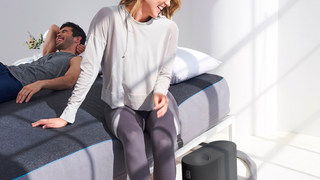 Eight Sleep Pod Cover
(Edit: I originally erroneously listed Buncombe as a winner of GT Academy when he's actually one of the guys who trains the entrants instead. Sorry for the mistake—it's fixed now.)