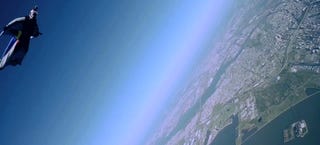 If you want to see the skyline this well, your nearest hope is to get to the top of the Empire State Building. But for that, you have to pay 46 bucks. This view is free. As long as, ya know, Red Bull picks up the tab for the plane and the fuel and the chutes and the suits.
But yeah, otherwise free.
The New York City area is being treated to a whole bunch of awesomesauce this week, between Fleet Week and the Jones Beach Air Show on Memorial Day, featuring the US Navy Blue Angels. But the air show also features five wingsuit flyers from the Red Bull Air Force, and this weekend they jumped over Manhattan.
For fun.
The five jumpers leapt from 7,500 feet, way above the Freedom Tower the city's tallest building in downtown Manhattan, and the wingsuits they were wearing let them travel more than two miles in just two minutes to a barge in the Hudson River.
My own personal-non-scientific-at-all-estimate says that should normally take just a bit under an hour, if you're going by bus.
Jumping out of airplanes while wearing a wingsuit is much better than going by bus.