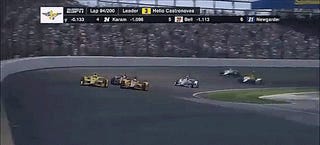 Sage Karam, one of several one-off entries hoping to impress his way into more IndyCar drives during today's Indianapolis 500, is out of the race after smacking into the wall outside Turn 1.

Karam simply tried to carry too much speed too high through Turn 1 while trying to pass Townsend Bell and met the wall accordingly just before the race's halfway point. Karam had fought his way up from a 23rd place start up to 6th place when he crashed.

The crash damaged the SAFER barrier outside Turn 1, so there will be a lengthier than usual yellow flag for the repair of the barrier.