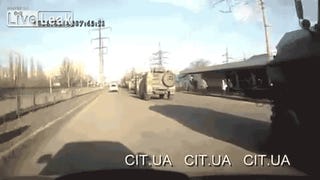 As we all know, if there's something in the Post-Soviet East that isn't recorded on some random dude's dashcam, it didn't happen. Well, now the invasion of Crimea can call itself legitimate.
This video uploaded to Liveleak today claims to be from today, March 3rd, and shows a column of Russian military vehicles headed towards central Simferopol. That's the capital of Crimea, whose airport the Russians seized last week.
Amazingly, these trucks have not broken down unlike some previous Russian vehicles on a similar route.
Oh wait, did I say these were Russians? Excuse me, I meant that these were just pro-Russian militia members. Militia members who happen to have large Russian military vehicles at their disposal. My mistake.