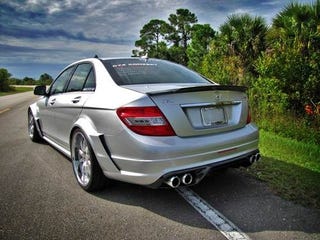 Two common Mercedes C63 AMG complaints are: The lack of grip and understated appearance. The RENNtech C74 "Konzept" fixes both problems with a wide-as-Jennifer Lopez rear track and a widebody aero kit that makes the U.S.S. Enterprise look inconspicuous.
Longtime Benz tuner RENNtech's already worked their magic on the German übersedan to produce the C63 AMG SPEC.R, and this "Konzept" features upgraded cams, new carbon fiber airbox, ported/polished heads, and ECU tuning good for 605 hp and 555 lb-ft of torque.
The real story is not the power. It's the stretched rear. A C63 AMG comes stock with, essentially, bicycle tires (255). The C74 stretches out the rear to 74-inches and throws on a more appropriate set of Nitto INVO 305's out back. According to the company, it'll fit an 11-inch rear if you need all that rubber.
The C74, though still a "Konzept" is not, apparently, a "concept" because you can buy the kit starting at $11,950 plus countless speeding tickets. The number also has nothing to do with the car's displacement, just like the real C63.