Thousands will enter, but only one will live the dream. Register for GT Academy to compete in a series of Gran Turismo® 5 online time trials for a chance to become a real professional racecar driver.
After you register, race one of the pre-selected Nissan vehicles on Gran Turismo 5 tracks. This is where it gets serious—you'll need to win regional time trials first against your racers in your region. If you are fast enough to make the top 32 virtual racers, you'll compete in the live national GT Academy finals for a live head-to-head competition.
After that, it's time to put your virtual training from Gran Turismo 5 to the test in the real world. The top 16 will compete in a 5-day pro racing training camp in which you'll get behind the wheel of real Nissan cars on a real, world-famous track—world-famous, just like you could be if you have what it takes.
One winner will start down the path of intense training to become a pro, and ultimately compete in a real race as part of a professional racing team. The triumphs, the setbacks, and the dream will be documented in a reality show series on the SPEED channel.
The U.S. winner will participate in over a dozen test sessions with a driving mentor and several races with a professional race team, in an endurance race as member of the Nissan/Sony Computer Entertainment GT Academy Team.
G/O Media may get a commission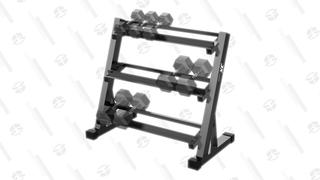 20% Off
JX Fitness Dumbbell Rack
Gains but tidy
Has a three-tier design to help store more weights more conveniently, can safely support up to 1000lbs of weight, which should be enough for most people, has a triangle base for stability, and also features anti-scratch feet which is great if you've built your own studio or workout in your garage.
There can be only one champion, so get online and start playing Gran Turismo 5 now, since you only have until January 23 to enter. You'll find Gran Turismo 5—the most realistic and comprehensive racing video game available, featuring stereoscopic 3D, more than 1,000 licensed cars, a Course Maker, and a robust online racing community—only on the PlayStation®3 system.
Click here to register for the GT Academy now. This is your chance...