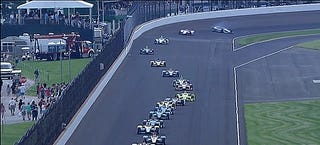 Juan Pablo Montoya will have his worst-ever finish at the Indy 500, and his first finish outside the top five today. He's officially out of the race after a spin sent him into the wall outside Turn 2.
"I just got loose and lost the car," Juan Pablo Montoya explained on the broadcast.

The crash left a yard sale of debris, triggering another caution for the day. It's yet another early mistake from an unexpected, experienced driver.