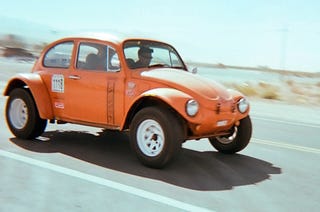 Add one part Volkswagen Beetle to three parts route instructions, top it off with the open road, hope that Johnny Law is in the donut shop, and you have the makings of the Beetleball Endurance Rally Series!
The Beetleball is like The Cannonball Run but without Lamborghinis or Dom DeLuise. Sure, some could argue that busty girls in Lambos and Captain Chaos are the best parts of an open road race. However, in the end it is the all out speed of the event that makes a race like this cool. Even if that "all out speed" is at the maximum velocity of most Beetles which is at a sad 70 miles per hour.
To get the low down on entering the event and learn how to actually stay out of jail long enough to win the Beetleball check out the Racer Boy article at Speed:Sport:Life.