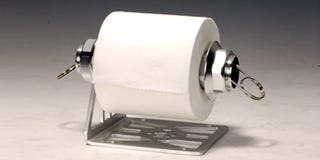 With a new apartment comes a new bathroom. Luckily, I've just found the perfect toilet paper holder for it. An AUTOart CNC-machined aluminum-billet center lock racing toilet paper roll. Anyone want to buy me an early Hanukkah gift?
Here's AUTOart's official description:
It offers the challenge of determining how many seconds one really needs to undo the centre locking nut, protected by a safety pin, change the roll and then fit it all back together again without using an air gun. The holder is CNC-machined from aluminium billet with the base stamped from sheet aluminium.
Awesome. But here's why I won't be buying it for myself — it costs $49.95. Pricey — but look at it as art that'll stand the test of time instead of just a fancy toilet paper holder and the cost somehow just doesn't seem quite as high anymore. (Hat tip to smokyburnout!) [AUTOart]