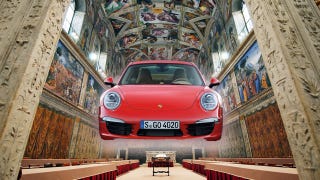 This Saturday, 40 Porsche devotees will be treated to an after-hours tour of the Sistine Chapel, a private concert, and a dinner, all for around 5,000 euros – the first time the museum has ever been rented to a private company.
The event is part of a two-day driving tour organized by Porsche, but a Vatican spokesman says the museum is not really for rent.
"The Sistine Chapel can never be rented because it is not a commercial place," says Monsignor Paolo Nicolini, the managing director of the Vatican Museums. "Saturday will be the debut of 'Art for Charity,' an initiative to exclusively support the charitable projects of the pope. This initiative is organized directly by the Vatican Museums and is directed at big companies. With the payment of a ticket, they can contribute to financing charity projects."
The proceeds from the event are reportedly going to charities for the homeless and poor.