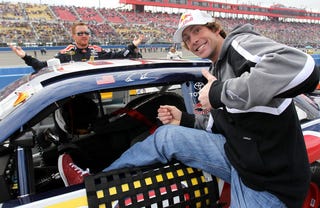 Rally champ and hoon king Travis Pastrana left the Subaru team today to drive for Michael Waltrip's NASCAR team in the Nationwide Series. What, too many right turns in rally?
Here's Pastrana's tale of the tape with Subaru: Four national rally championships, 22 race victories, 40 podium finishes and more than 150 stage wins. He's also set the record for climbing Mt. Washington, jumped his Subaru 269 feet into Long Beach Harbor and can beat you at Big Buck Hunter.
Luring Pastrana to NASCAR counts as a marketing coup for the Daytona Beach crowd, showing that whatever some racing fans may think of carbureted, ugly template cars running in endless lines, NASCAR can still draw the world's best drivers.