Debbie and John Hooper were devastated when their Chevy dealership crashed their beloved Camaro ZL1, then couldn't find a suitable replacement for the wrecked car. Now the Hoopers claim that GM and another dealer from Michigan have stepped up and found them the right car.
The center of the conflict between the Hoopers and their dealer First State Chevrolet was that First State Chevrolet found a substitute ZL1 that they felt was an ideal replacement for the Hoopers' crashed car and the the Hoopers did not want it. It had an undesired sunroof, the wrong wheels, the wrong badges, and it had been in an accident.
First State Chevy wouldn't offer a better ZL1 and the Hoopers wouldn't take their existing offer. They were at an impasse.
According to this Camaro5 forum post, GM and a Michigan dealer found him the car that can truly substitute for his crashed car.
GM and Berger Chevrolet (Grand Rapids, Michigan) have stepped in and are paving [not paying] the way for a new 2013 ZL1 to be sent to First State Chevrolet for me to purchase.
G/O Media may get a commission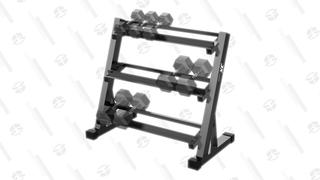 20% Off
JX Fitness Dumbbell Rack
Gains but tidy
Has a three-tier design to help store more weights more conveniently, can safely support up to 1000lbs of weight, which should be enough for most people, has a triangle base for stability, and also features anti-scratch feet which is great if you've built your own studio or workout in your garage.
Here's the full post by John Hooper, a published author on Camaros.
Just a quick update for everyone...

1. I never demanded a new car. I merely stated that I should not HAVE to be forced to buy a new [read "different"] car when mine was totaled through no fault of my own. If I had been driving the car, I would accept the loss.

2. The difference in price between a good, used 2012 ZL1 and a new 2013 ZL1 is only about $5-6K considering rebates, etc.

3. Yes, the OP really was to just let everyone know what happened to #1635 that appeared on the ZL1 registry many months ago.

4. We actually made 3 payments on the car while the car was in the dealer's possession while they tried to figure out what to do about the paint issues [read "left the car there for weeks on end without actually doing anything."] I believe the last time I drove the car was the weekend of October 25, 2013.

5. GM and Berger Chevrolet (Grand Rapids, Michigan) have stepped in and are paving [not paying] the way for a new 2013 ZL1 to be sent to First State Chevrolet for me to purchase.

6. We have apologized to many of the employees at First State for the actions taken by many of the people who have been infuriated by this whole story and have called First State to voice their opinions. Anyone who thinks the dealership has not been affected by all of this must have his head in the sand.

7. We want to thank everyone for their support. We never expected this to take on a whole life of its own. A special thanks goes out to the suppliers who have so graciously stepped up to provide parts at their own expense to help ease the heartache we have experienced in this ordeal.

8. I am not the biggest tech guy out there, and I have never made it a practice to post on forums, don't have a Facebook page, etc. But I do plan to stick around on this forum, and I hope to meet many of you in person at various events.

9. When the situation is resolved, I will post photos of the new car. I understand that it will be about two weeks before the insurance check is cut, the old car is paid off, the new car arrives, and a new purchase contract will be signed by my wife and I for the PURCHASE of our new ZL1.

Thanks,
JRH (jhoop302)
In more good news, the Hoopers are getting some new sway bars and some other swag, courtesy of Pfadt Race Engineering and two other companies. This statement was released on Pfadt's blog.
On a personal note, last Friday I was updating Aaron Pfadt, owner of Pfadt Racing, on this drama and he was super bummed out for the Hoopers. Around 4pm he came to my desk and said send them something cool, tell them that we are thinking about them, and that they are experiencing all of our worst nightmares. So I contacted John Hooper and let him know we would be sending him a set of sway bars for his next car, whenever he resolved this issue. John was super pumped and we were happy to give him a little bit of excitement in the middle of this mess. What's even cooler is today our friends over at Cold Air Inductions and Diode Dynamics followed suit and are hooking the Hoopers up with a Cold Air kit and custom LED lighting! Very cool of these two companies to do that and maybe another company or two will do the same thing.
GM has confirmed that they are helping a dealer source a ZL1 for the Hoopers, and it does appear that the war is over.
Photo Credit: John Hooper