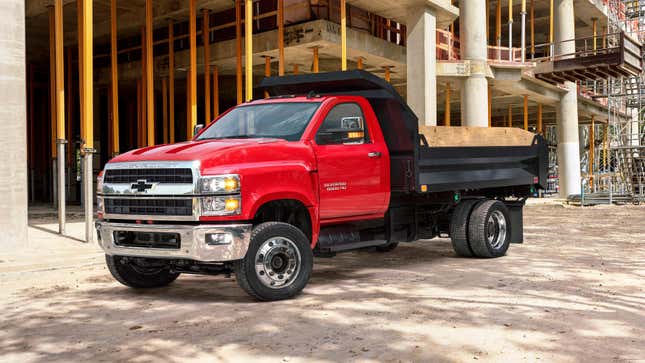 General Motors is recalling over 40,000 of its medium-duty trucks due to a potential fire hazard. According to a report from the National Highway Traffic Safety Administration, it's possible that brake fluid could leak onto the brake pressure sensor assembly. That, in turn, could cause the component to short-circuit and lead to a fire on certain 2019-2023 Chevy Silverado 4500HD, 5500HD and 6500HD trucks built by Navistar under contract for GM.
What Car Should You Buy: Just Get a Minivan Edition
In case you missed it:
"These vehicles may have a brake pressure sensor assembly that allows brake fluid to leak beyond the diaphragm seal into the pressure switch," the report states. "The brake fluid may seep into the sensor's electrical components and short the brake pressure switch and the associated fuse."
Wanna know what comes next if that happens? That's right, baby, a fire! And, it could happen at any time. The report says that the "underhood fire" could occur when the vehicle is off and "possibly unattended." Because of that, GM is urging owners to park their vehicles outdoors and away from any structure until the fix can be done.
The automaker has determined the faulty part to be a zinc-nickel plating and sealant used to stop corrosion within the pressure sensor assembly. It may end up delaminating which allows fluid to seep through the seal. If this happens, drivers may notice a "service brake system" warning light on their dashboard. However, that isn't always the case. The report says the issue may come about without any symptoms or in too short a time period for the truck's brain to notice an issue.
Right now, GM says there have been 21 incidents of failure involving customers' trucks. 11 of those have resulted in fire, smoke or visible flames. Luckily, the automaker is not aware of any injuries related to the issue.
To fix the problem, dealers will replace the master cylinder pressure sensor and inspect the wire harness. If it's not up to snuff, the harness will be replaced, free of charge. Owners can expect to be mailed interim letters notifying them of the safety risk on May 29th. A second letter will then be sent once a remedy is actually available.