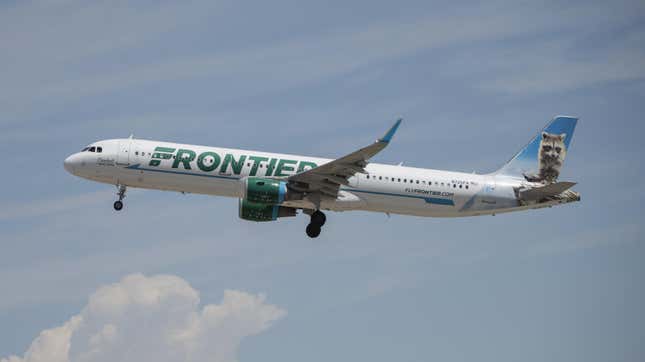 Frontier Airlines has had a very intriguing past 13 months. The Denver-based low-cost carrier lost out in a billion-dollar bidding war to acquire Spirit Airlines against JetBlue. Last October, Frontier offered an unlimited flight pass to customers. In November, the airline discontinued its customer service phone line. Now, Frontier is launching a lottery for frequent flyer miles.
In case you missed it:
Frontier Airlines has launched a lottery promotion called "Lott-o Miles, Pick 5." Simple Flying reported the concept's novel format. Instead of numbers like a traditional lottery, contestants will pick five animals out of 20. This is an appropriate change for the airline known for painting animals on its planes' tail fins. When the first drawing takes place, whoever picks the correct combination of five animals wins 1 million miles. If multiple people make the right choice, then they will split the prize. If no one wins, the prize rolls over to the next drawing, like a standard lottery. Entry is free on the airline's website, and contestants don't need to join Frontier's frequent flyer program beforehand.
The first drawing will take place live on Frontier's social media channels on Wednesday, March 29, at 2 p.m. ET. The following drawings will happen at the same time on March 31, April 3, April 5 and April 7. In total, Frontier Airlines will be giving away five million frequent flyer miles. Tyri Squyres, Frontier's vice president of marketing, said in a statement, "We're always looking for fun and unique opportunities to show customers how much we appreciate them, and it makes it all the more exciting to be the first airline to do this type of promotion."
Frontier Airlines deserves praise for coming up with exciting ways of attracting customers, but even their giveaway winners won't escape additional fees. Frontier charges a miles redemption fee for trips booked within 180 days of departure. The fee starts at $15 and escalates to $75 when a flight is booked within a week of the trip.