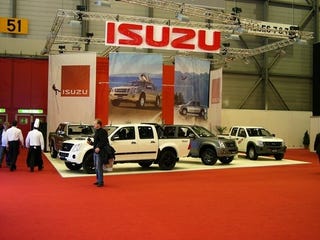 By far the saddest stand here in Geneva is Isuzu's little corner of shame. Four forlorn pickup trucks abandoned lurking in a corner, visited by nobody but service industry people on their way home.
But here at Jalopnik, we leave no car abandoned. So even though Isuzu pickups lack the glamour of hot Alfa Romeo prototypes, it's good to see them stand up to the all-out assault of Porsches and Koenigseggs at the sort of motor show where people seriously inquire about purchasing a Pagani Zonda.
Also, Mr. Petrány has just reminded me—taking a break from watching Swiss wrestling on our hotel TV—that it was none other than Isuzu who made the engine for the Lotus Elan. Back when Loti were not hybrids.