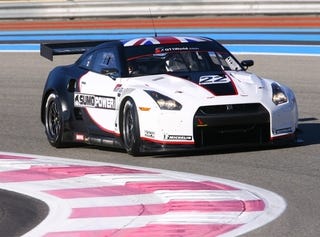 Tiff Needell played master of ceremonies at the 2010 FIA GT1 World Championship launch. That's where a trio of Nissan GT-Rs decked out in race livery signaled Nissan's return to the series after a 20-year absence.
NISMO President and NISSAN Motor's Global Motorsports Program Director Yuichi Sanada was in attendence and summed up the whole thing pretty well:
We are very excited about NISSAN returning to a world championship after nearly 20 years away. The FIA GT1 World Championship is an ideal venue for NISSAN to showcase its technology globally through the participation of its iconic model the NISSAN GT-R. Our partner teams, Sumo Power GT and Swiss Racing Team are also excited about racing the NISSAN GT-R at circuits around the world."
We're assuming all applicable warranties have been voided.