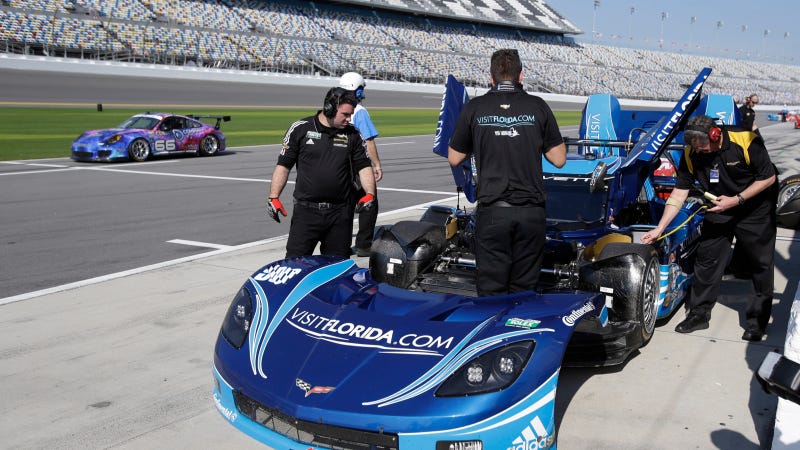 Welcome to the Jalopnik Weekend Motorsports Roundup, where we let you know what's going on in the world of racing, where you can see it, and talk about it all in one convenient place. Where else would you want to spend your weekend?
Chilly winter weather got you down? Depressed over what happened to that dolphin in New York? I'm guilty on both counts. And if you are too, you need to do what I plan to do this weekend: stay in my pajamas, order a bunch of Chinese delivery food, and park myself in front of the TV for some hot racing action.
Thankfully, this weekend will be an excellent one on the motorsports front, thanks to the 24 Hours of Daytona. If you don't know what that is, let Jalopnik reader porsche9146 drop some knowledge on your ass by reading his fantastic spotter's guide. He'll be liveblogging the race for us later, so be sure to tune in for that.
As always, let us know about anything we missed — or any good racing livestreams out there — in the comments.
Photo credit AP
All times Eastern
Saturday, Jan. 26
Lucas Oil Off Road Racing Pro4 & Pro Buggy
Speedworld Raceway Park
Surprise, Arizona
4 a.m. on SPEED
(Race from May 18)
FIA World Touring Car Championship Round 9
Sears Point Raceway
Sonoma, California
11 a.m. on SPEED
(Race from Sept. 23)
(Also 1 a.m. Sunday on SPEED)
British Touring Car Championship Round 9
Silverstone Circuit
Northamptonshire, England
1 p.m. on SPEED
(Race from Oct. 7)
Rolex Sports Car Series 24 Hours of Daytona
Daytona International Speedway
Daytona, Florida
3 p.m. on SPEED
(Part 1 runs until 11 p.m., then picks up on Sunday)
Monster Energy AMA Supercross 2013
Chase Field
Phoenix, Arizona
5 p.m. on FUEL
(Race from Jan. 12)
Monster Energy AMA Supercross Lites
Dodger Stadium
Los Angeles, California
8 p.m. on FUEL
(Race from Jan. 19)
Sunday, Jan. 27
FIA World Touring Car Championship Round 8
Autódromo Internacional de Curitiba
Curitiba, Brazil
12 a.m. on SPEED
(Race from July 22)
Lucas Oil Off Roading Pro2 and ProLite
Miller Motorsports Park
Salt Lake City, Utah
4 a.m. on SPEED
(Race from June 22)
Rolex Sports Car Series 24 Hours of Daytona
Daytona International Speedway
Daytona, Florida
9 a.m. on SPEED
Monster Energy AMA Supercross 2013
Oakland-Alameda City Stadium
Oakland, California
12 p.m. on CBS
(Race from Jan. 26)
Monster Energy AMA Supercross Lites
Oakland-Alameda City Stadium
Oakland, California
5 p.m. on SPEED
(Race from Jan. 26)
FIA GT1 and GT3
Donington Park
Derby, England
9 p.m. on SPEED
(Race from Sept. 29)