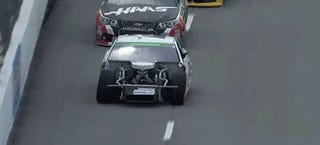 Hey, Brad, both hands on the wheel, eh?
This is 2012 Champion Brad Keselowski flipping off 2004 Champion Kurt Busch at Martinsville last weekend. The drama started when Keselowski screwed up his pit stop, leaving slow and hitting Kasey Kahne on pit road. Busch then slammed into Keselowski, throwing away Brad K's race and eventually his nose and hood.
Here's the whole drama on video.
Busch ended up winning, possibly helped by Keselowski's ineffective brake check.Well done, boys.