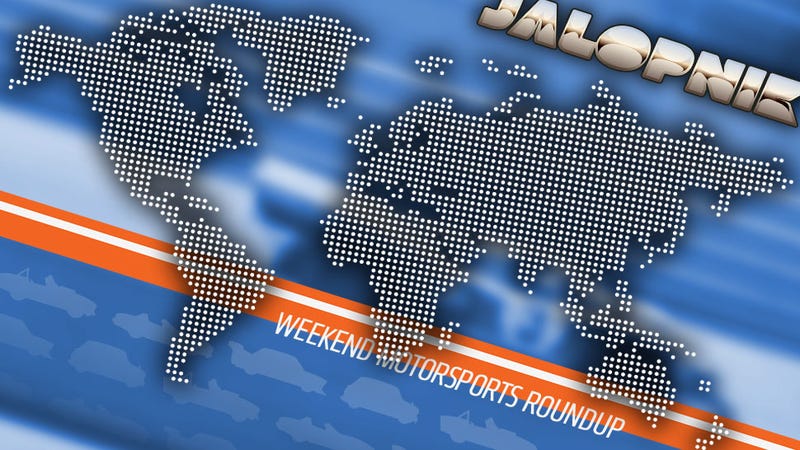 Welcome to the Jalopnik Weekend Motorsports Roundup, where we let you know what's going on in the world of racing, where you can see it, and where you can talk about it all in one convenient place. Where else would you want to spend your weekend?
We're in that final, home stretch of the year that features some of the best racing. Temperatures throughout much of the Northern Hemisphere are beginning to cool, which enables many engines to put out more power, but this soon-to-be-fall season actually provides great competition for another reason. Towards the end of the season, the stakes are higher. Dreams have already well on their way to dashing or fulfillment, and everyone now has a good idea of where they stand. Every driver knows exactly how many points they need to move up a place, or how many they can bear to lose out on before they fall from grace.
The two races that will be foremost on the minds of racing fans, at least here in the United States, are the Formula One Italian Grand Prix at Monza and the World Touring Car Championship Race at Sonoma. The latter, because the WTCC is great racing and also because this time around it will actually be watcheable on your TV, right here in the US on CBSSN. Now, I know that doesn't sound like it's on a big channel, but supposedly CBSSN reaches 99,000,000 around the country, so at least some of you can watch it. The former, because Monza is historically the fastest F1 race, and speed, for lack of a better word, is good.
F1 tends to thrive when its racers are forced to rely on mechanical rather than aerodynamic grip, and since the track is meant to be run flat-out for much of the circuit, the cars will almost certainly be running on very-low-downforce settings. That means we may be seeing the occasional dash of opposite coming through the corners. If you know you're going to lose anyway, why not do it with some style, powersliding through each apex?
Max Chilton, I'm looking at you.
We know there's been a few site changes recently, so in the interests of comfort and familiarity we'll be keeping the races in the body of the posts, as well as on the map. Of course, please use our image annotation tool on the map above to show us races we might have missed, where they're being held, and where we can livestream them.
All times Eastern.
Formula One Italian Grand Prix Practice
Autodromo Nazionale Monza
Monza, Italy
6:30 AM Saturday on NBCSN
Formula One Italian Grand Prix Qualifying
Autodromo Nazionale Monza
Monza, Italy
8 AM Saturday on NBCSN
NASCAR Camping World Truck Series Fan Appreciation 200 Presented By New Holland Final Practice
Iowa Speedway
Newton, Iowa
12 PM Saturday on FS2
NASCAR Sprint Cup Federated Auto Parts 400
Richmond International Raceway
Richmond, Virginia
7 PM Saturday on ABC
ARCA Racing Prairie Meadows 150
Iowa Speedway
Newton, Iowa
9 PM Saturday on FS2
Formula One Italian Grand Prix
Autodromo Nazionale Monza
Monza, Italy
7:30 AM Sunday on NBCSN
12:30 PM Sunday on NBCSN (replay)
NASCAR Camping World Truck Series Fan Appreciation 200 Presented By New Holland
Iowa Speedway
Newton, Iowa
1:30 PM Sunday on FS1
Rolex Sports Car Series Continental Tire Sports Car Festival
Mazda Raceway Laguna Seca
Laguna Seca, California
5 PM Sunday on FS1
World Touring Car Championship
Sonoma Raceway
Sonoma, California
5 PM Sunday on CBSSN