The Peel P50 might not have the solar panels of the Geely iG or come cabriolet form like the Smart Car, but this minicar trumps them all in one thing…size. Watch the video to see just how tiny the world's smallest car really is and enjoy even more with Top Gear 10, out on DVD now.
In Season 10 of Top Gear, host Jeremy Clarkson (a tall 6′5″) squeezes himself into the three-wheeled P50 for a quick spin around central London - quite a feat considering it can beat you in a game of limbo (47.2 in high) and fit through your doorway (39.0 wide). Watch the Peel P50 take some unconventional routes past car blocks, inside the BBC offices and even in an elevator. How's that for an awkward ride to the 4th floor?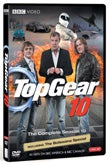 Want to see more? Top Gear 10 pits an Aston Martin against a man on roller skates, puts The Queen in a reasonable priced car and goes seaward with amphibious cars in a challenge to cross the English Channel. If you're already a fan, find your inner-Stig at TopGear.com and share the petrol passion with our new widget.