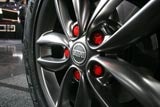 This bright-eyed ball of Britfunky is one of the strangest concepts we've seen in a while, but that doesn't mean we don't like it. Want to go dune-climbing in a Mini? Of course you do.

The Mini Beachcomber is a preview of the upcoming Mini SUV/crossover, a car tentatively known as the Crossman. It sports ALL4, Mini's all-wheel-drive system, along with long-travel suspension and a lack of anything even resembling a door. A roof-slash-roll-cage structure that apes the ordinary Mini's roof can accomodate removable roof panels or a stowable soft top.
This is an odd duck. As far as we can tell, society isn't exactly screaming out for a compact, Suzuki-Samurai-meets-Jolly-Old off-roader. That said, the Beachcomber certainly looks cool, and there's no mistaking the indomitable excellence of a modern-day Mini Moke. Yeah, the Moke was all but worthless as an off-roader, not to mention the size of a Lilliputian golf cart with a growth disorder, but who cares? It looked cool. So does this. Want. Must have. Need to steal it and go find a beach.