Seven decades after its birth, Mercury is dead. We don't mourn the loss, but we don't rejoice, either. To be honest, we don't feel a thing. Do you care? Does Ford? Does anyone?
Do those questions seem cruel, or silly, or perhaps a little ignorant? Take a moment to remind yourself of what we're dealing with: We are talking here about Mercury, the FoMoCo middle child, Ford's gap-filling brand between brands. It was created to fill a marketing niche, to deliver a product that solved a problem that no one was even sure existed. (Question: When your brand's only remaining sexiness is found in its spokesmodel, isn't it time to throw in the towel?)
G/O Media may get a commission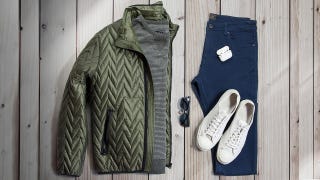 60% off
Jachs NY Fall Sale 60% Off
For seventy years, Mercury has been defined not by what it is, but by what it is not. The brand — and make no mistake, this is a brand and a badge, not a car company in the traditional sense — was the brainchild of Edsel Ford, Henry Ford's revered son. In the late 1930s, he worked closely with Bob Gregorie, Ford's first design chief, to design a quasi-marque that would fit between Ford and Lincoln. (Wert once joked that "Mercury was created so Jews in metro Detroit could buy a Ford without actually buying a Ford." Funny or not, the line holds a modicum of truth.) After much deliberation, the project was named after a wing-footed Roman god and messenger. It was thought that the name would represent dependability, speed, and skill.
The car that resulted, the 1939 Mercury Eight, a.k.a. the Super Ford, was one of the most aerodynamic cars of its era. It sported a 95-hp flathead V-8 that made ten horsepower more than the blue oval's Ford-branded unit, and it was one of the most aerodynamic American cars of the era. It was also one of the first cars designed using a full-scale clay model. By the end of '39, over 17,000 cars had rolled off of Ford's assembly lines. Ten years later, the iconic, bathtub-shaped '49 Mercury coupe arrived; when James Dean drove one in the 1955 film Rebel Without a Cause, he helped create the brand's one true, capital-M, pop-culture Moment.
Contrast that car — the very definition of rebellious 1950s cool, and a seemingly indelible, unkillable image — with the last unique Mercury, the last car the brand sold here that wasn't a rebadged, home-market Ford: the 1999-2002 Cougar coupe. The Cougar was based on the Contour/Mondeo platform and rumored to have only ended up as a Mercury because Ford dealers felt that it was positioned too close to the Focus. It was noisy, rough, cheap, and suffered from piss-poor build quality. The first Cougar, introduced in the late 1960s, was a goofier-looking, plusher Ford Mustang. The last was an afterthought of a sports coupe that reminded you of a Toyota Celica in heavy makeup. Save the badge-swapping bit, there's almost no connection between the two. They could have come from completely different companies.
The presentation didn't help. Slogans like "imagine yourself in a Mercury" and "more of everything you want" imply a staggering amount of vagueness and indifference, as if Ford didn't know what the cars were supposed to be. The model names chosen, things like Sportsman, Monterey, Voyager, and Sun Valley, are all over the map. As a result, Mercurys became something people bought without planning. You didn't necessarily need a Merc, but with few exceptions, you didn't lust after one, either. You just kind of ended up there.
It wasn't all bad. The brand went through several strong periods, but the moments we remember, like Parnelli Jones racing a Marauder up Pikes Peak in 1965 or the NASCAR Marauders, were happy accidents. Cars like the Commuter Wagon (a pillarless, four-door station wagon) and the Turnpike Cruiser (a fat, ugly '50s highway barge) just seemed like desperate, stabbing attempts at providing the brand with something different just for the sake of being different. For decades, Mercury seemed like the place where Ford's weird ideas and half-starts went to die, or maybe just be ignored.
The Toyota/Lexus model — a brand for normal people, a brand for people with more money, and nothing else — has proven to be the most efficient and profitable approach to car building, but it also provides a lesson in the nuances of platform sharing: If you're going to try to sell different versions of the same car, you need to make people feel like they're actually buying something different, something real. Something aimed at a human being, not a demographic hole.
At the same time, you have to offer something specific, something that the average consumer views as unique. Mercury currently sells nothing but thinly disguised Ford products, cars tarted up and filled out with what appear to be option and trim packages and little else. The current lineup is a bland assemblage of vehicles that says nothing to no one: Milan, a massaged Fusion. Mariner, a massaged Escape. Mountaineer, a massaged Explorer. The Grand Marquis, the last non-fleet iteration of Ford's storied Panther platform. None of them have a base price over $30,000, and all feel like little more than optioned-out versions of the Fords from which they sprung. (This is a flip of the problem from the brand's '50s/'60s golden era, when its cars were luxurious enough to butt up against Lincoln's territory.) Put most people behind the wheel and slap a blindfold over their heads, and they probably won't be able to tell the two brands apart.
In the end, there is good here. Mercury's death is a reassuring repudiation of both badge engineering and platform prostitution. The statistics, too, are encouraging — the brand's current market penetration is a staggeringly low 0.8 percent, which shows that the American consumer is not wholly stupid. It offers hope, and it suggests that carmakers can no longer expect to play cut-and-paste with badges and reap benefits.
Mercury is dead. Forgive us if we don't shed any tears.