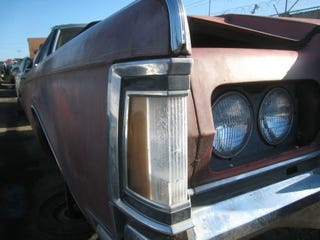 I wish I'd had shots of this glorious '70 Mark III when I made the Junkyard Desktop Wallpaper Gallery, because it's a beauty from any angle!
Unlike so many Junkyard Find cars, this one doesn't seem to be much of a restoration candidate. Sure, it's probably less rusty than a Midwestern car, but it has been loved to death during its 40 years on the planet.


The peeling vinyl top and shredded-rag insulation adds texture.


Even the interior has patina!