The Lamborghini Huracan has a hybrid carbon-aluminum chassis, a clever all-wheel drive system that can send all the power to the rear tires, 3 gyroscopes, a dual clutch gearbox and a top speed of 201 mph. A light two-wheel drive version is almost certainly coming, too, but the manual is dead for good.
(Full disclosure: Lamborghini wanted to explain us how the Huracan works so badly that they flew me to Bologna, took us to the Museum and made sure I always had enough mozzarella in my body to function properly.)
Most of the Huracán's (with a silent 'h') specs have been out already, and you've also seen one of the four cars currently in the US going sideways. That's great, but what's better is when you have Lamborghini's CEO, chief engineer, chief designer, chief test driver and the smartest man from Audi standing next to it answering your questions. Their body language reveals more than the figures.
The Huracán is a brand new car that replaces the decade old Gallardo, Lamborghini's biggest success story. They built 14,022 of their first modern small car, and with the Huracán's pre-orders coming in nicely, there's no question that this is supposed to be the new bestseller in town.
G/O Media may get a commission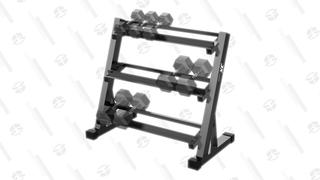 20% Off
JX Fitness Dumbbell Rack
Gains but tidy
Has a three-tier design to help store more weights more conveniently, can safely support up to 1000lbs of weight, which should be enough for most people, has a triangle base for stability, and also features anti-scratch feet which is great if you've built your own studio or workout in your garage.
To catch up with the competition, Lamborghini started with a clean sheet design and enough tech to make it what they call 'cutting-edge.' Realistically, there are only two technologies in it that could turn heads at Maranello, just a few miles south from the factory.
The first is the electronically controlled all-wheel drive system that uses a 70 rear/30 front torque ratio as standard but can send all the power to the rear or up to 50 percent to the front. This works together with the Pattaforma Inerziale, a measuring device placed in the center of gravity of the car with 3 accelerometers and 3 gyroscopes inside, adjusting everything from the ESP to the gearbox to fit the actual conditions.
The other big news is Lamborghini's hybrid carbon fiber/aluminum chassis, which uses CFRP for the firewall and the transmission tunnel that's glued and riveted to the aluminum space frame. If we won't see this in the next Audi R8, I'll eat only vegetables for a week.
The same goes for Lamborghini's long-awaited 7-speed dual-clutch automatic called Doppia Frizione. That sounds a bit like Neue Direkt Schalt Getriebe to me, but compared to the Aventador's single clutch that could snap a neck, it's going to be faster and smoother.
The manual is dead because nobody wanted it in the last few years according to Winkelmann, and also because it wouldn't work with all the complex electric aids. By getting rid of the gated shifter, Lamborghini took care of the last thing that could make the car go slower: Humans.
This also means that if you happen to have a late Murcielago or Gallardo with a stick, hold on to it because it's uncommon as a solar eclipse.
And just like how there's only one gearbox, there's alsoonly one engine for each Lamborghini. The dry-sump 5.2 V10 has evolved again and thanks to getting stronger due to the forged aluminum and low-pressure die cast silicon alloy components, it now produces 610 horsepower and 413 foot pounds of torque, 75% of which is available from 1,000 rpm. Throttle response has been further improved and the redline is somewhere around 8,750 rpm. The combination of direct and indirect injection and start-stop as standard makes it 11% more fuel efficient than the Gallardo 560-4 too.
Despite all that carbon fiber, though, it's no featherweight. The Huracán's dry weight figure of 3,134 pounds is only true with a bunch of optional extras. Put some oil in it and you get further from being superleggera. Still, with a power-to-weight ratio of 2.33 kg/hp, it can still get to 62 mph in 3.2 seconds or to a 124 mph in 9.9. Not 10, 9.9. And it keeps going until 201. Around the Nardo test track, it's about 0.2 seconds faster than the most hardcore Gallardo for the road, the LP 570-4 Super Trofeo Stradale. Get a base Gallardo, and the difference is a more significant 2 seconds.
The brakes are carbon ceramics and there's a new Pirelli P Zero just for the Huracán (305/30 at the rear), which means you can brake later and stop earlier than with the predecessor. That will come handy on the track, just like the 50% more downforce generated by a flat underside and a large diffuser. Lamborghini is very proud of not using any wings or active flaps like the ones "you see on other cars".
The suspension will likely urge you to go faster as well, with a double wishbone setup and (optional) magnetic dampers that are linked to the Huracán's brain. The brain in question can be instructed via a button on the steering wheel called Anima. It's Lamborghini's Manettino basically.
All other buttons moved to the steering wheel as well, with your indicators positions on the left side after studying how the human brain operates. I'm not kidding, they've done their homework.
The instruments are all digital now. The screen behind the multi-function steering wheel is a 12.3-inch TFT piece powered by an Nvidia Tegra 30 chip giving you 60 frames per second for the rev counter. You can switch between different views as well including a full navigation display or a giant tachometer. There's also a small screen on the dash with the temperature gauges.
So, what's it like in the flesh? A bit like an updated Gallardo, and that's a good thing since everybody liked that car. It remains compact, there are some beautiful details once you get closer, it's a very clean design and the interior is something I could get used to very quickly. Like, in five minutes.
The best? The technologies involved and the standard engine cover louvers (the glass remains an option). The worst? The understandable death of the gated shifter and the massive (but fake) chrome exhaust tips. There was a rolling chassis next to the car and the normal pipes would work perfectly well enough. But that's Audi for you.
The Huracán is bit heavy though and while the new four-wheel drive system supports going sideways by sending everything to the rear, a base car without its weight could be even more fun.
I dare say they will build one again because after the question has been popped by Evo (who else?), following some fairy tales from the Lamborghini side, Professor Ulrich Hackenberg grabbed the microphone and settled the question by saying the the platform is engineered to work with rear-wheel drive as well. That's a yes in my book from the main man at Audi.
He was smiling, too.