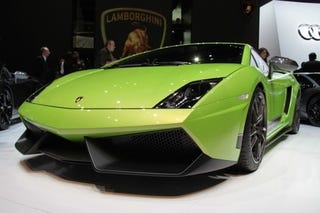 At 2954 lbs, the enormous-nostriled Lamborghini Gallardo LP570-4 SuperLeggera is the lightest Lambo currently made. At 561 HP, it's also the most powerful Gallardo. Now this is our type of green car.
Lambo managed to decrease the weight between the LP560 and LP570 by 154 Lbs through the extensive use of carbon fiber in the body and interior. Power comes courtesy of a direct injection 5.2 liter V10 shared with Audi R8 5.2 FSI and here hits 60 MPH in 3.4 seconds, continuing on to 202 MPH.
Do want.
Somehow we feel a connection of sorts with the SuperLeggera. A kinship. Two dying breeds huddled together for warmth. We're OK with that.
Photo Credit: Máté Petrány