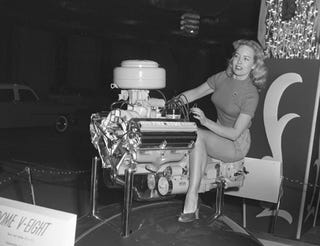 Our Mr. Smith has already explained the evil of plastic engine covers. As you can see, they're an insult not only to the petrolhead and the common man but to the slightly uncommon woman as well.
Seated in very close proximity to this De Soto Fire Dome V-Eight and wearing impossibly high heels is 50s LA beauty queen Shirley Buchanan at the 1952 Los Angeles International Automobile Show.
She doesn't look as though she would consider a valve cover or a distributor a major threat to her well-being. In fact, it is probably safe to say that Ms. Buchanan was never in the market for a pink Ladies Visor Car Organizer.
Photo Credit: Los Angeles Daily News