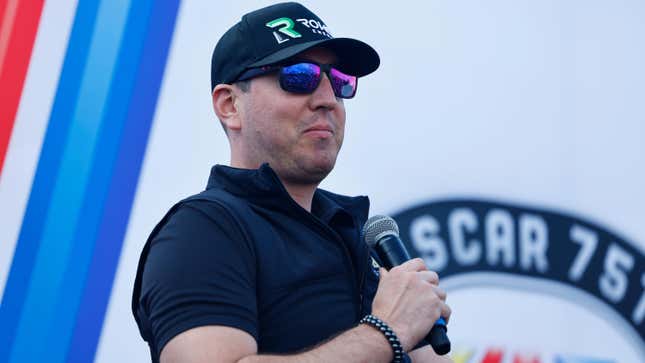 Mexican authorities detained NASCAR Cup driver Kyle Busch on January 27 after security agents at Cancun International Airport found a handgun in his luggage. Airport security called on members of the Mexican National Guard to detain Busch after spotting the firearm in his bag, just as the NASCAR driver was on his way to board a private flight back to the U.S.

In a statement, Mexican prosecutors (FGR) claimed Busch was carrying a .380 caliber pistol and a magazine that held six hollow point bullets — both of which are serious offenses in the country. In fact, the FGR said that the type of ammo Busch was in possession of is reserved exclusively for the armed forces.
The handgun was spotted by airport security as the NASCAR driver's luggage passed through the X-Ray platform, and Busch was detained shortly thereafter. The charges that Busch was found guilty of carry a prison sentence of three-and-a-half years and a fine of about $1,100 based on current exchange rates.
Here's the official statement, roughly translated:
The [FGR] has sentenced a foreign national to three years and six months in prison and levied a fine equivalent to $20,748 pesos.

The hereby sentenced, Kyle Thomas "B", was found guilty in the commission of a felony for carrying a weapon without a license and for possession of ammunition used exclusively by the Armed Forces.

According to the investigation's report, the foreign national was detained on January 27 of the current year by the National Guard of Quintana Roo, after private security personnel at the International Airport of Cancun notified the federal authorities at the FBO terminal for private planes.

The detained, from the state of Nevada, planned to fly to the United States of America, but as his luggage passed through the X-Ray platform, a .380 caliber handgun was detected along with a magazine carrying six hollow point bullets.

Afterwards, an FGR agent presented the findings to a Supervisory Judge, who declared detention of the hereby sentenced legal on January 29 in summary proceeding.
But it's unclear exactly how Kyle Busch is going to serve out his sentence, since the NASCAR driver was allowed to return to the U.S. not long thereafter his arrest.
In his own statement, Busch went on to say he holds a valid concealed carry permit in the U.S., but, as you can imagine, the permit doesn't apply past international borders. Busch should know that, given his vacationing in the Mexican state of Quintana Roo — which houses the Riviera Maya.
This also begs the question of just how Busch brought the gun into the country to begin with, but the driver claims he "had no intention of bringing the handgun into Mexico." Kyle Busch considers the matter closed, but he failed to mention how he's going to carry out the sentence. Busch tweeted: