This past July, the Miszkowiec family's car hit a kangaroo in a terrifying nighttime crash in the Australian province of Victoria. Seven-year-old Christopher Miszkowiec used his Nintendo DS handheld gaming device to help free his trapped mother and younger brother.
The Miszkowiec family had been driving late at night on a country road near Heathcote, central Victoria, when they hit a kangaroo, crashed and rolled several times into bushland.
While father Wayne fought to get out of the car and free six-month-old baby Joseph, Christopher unbuckled his own seatbelt and five-year-old brother Dilon's seatbelt, helping him from the car.
Then, using the light from his DS screen to see in the pitch black darkness, he went back into the car to help his mother and freed her from her seat, where she had fallen unconscious during the impact.
G/O Media may get a commission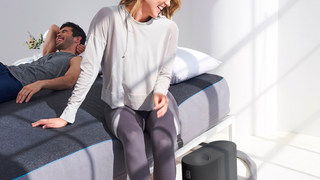 Eight Sleep Pod Cover
Today, Christopher was one of 11 people honoured with Ambulance Victoria Community Hero awards at Melbourne's Parliament House for their "extraordinary lifesaving acts".
Christopher's also been given lifetime unlimited Nintendo DS playtime by his mother.