When you buy a used car, you may find all kinds of things: coins, CDs, maybe an article of clothing. What you do not want to find is a cell-phone with some child-porn on it. That happened to an unsuspecting Florida car buyer when he purchased a 2005 Pontiac that was owned by a convicted sex offender.
The Orlando Sentinel reports that this week prosecutors filed charges against 62-year-old Jesse A. Brown for child pornography. Brown was previously convicted in 1992 of sexually abusing two 8-year-old girls in South Dakota, and sentenced to roughly 19 years in prison. In 2012, Brown relocated to the Winter Garden area of Orlando. Soon after police started receiving complaints that Brown was attempting to lure children into his car.
Police arrested Brown and he was later convicted of failing to register as a sex offender in Florida. He was sentenced to nearly two years in federal prison followed by 10 years probation.
Brown's 2005 Pontiac was Grand Prix was towed and sold. When the new owner cleaned out the car he came across Brown's phone and saw pornographic images of children. The owner immediately contacted the authorities, who questioned Brown about the phone.
Brown said he collected child pornography for several years, which he used "as a crutch to keep from acting out physically against children,"
G/O Media may get a commission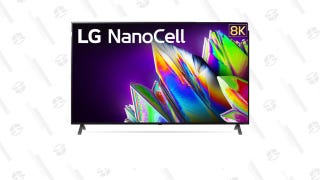 LG 75-Inch 8K TV
Police arrested Brown on Monday and he remains jailed in Orange County.
So when you are shopping for a used car, check the CarFax, check for open recalls, and make sure your next ride doesn't have any child porn in it.
(Photo Credit: Wikipedia)
If you have a question, a tip, or something you would like to to share about car-buying, drop me a line at AutomatchConsulting@gmail.com and be sure to include your Kinja handle.