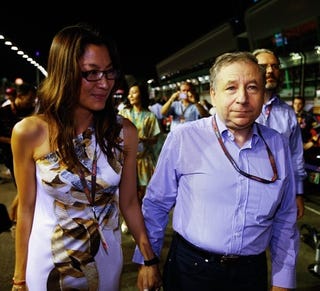 Jean Todt defeated Ari Vatanen last week to become the new president of the FIA, motorsport's international governing body, replacing 16-year incumbent Max "Spank Me" Mosley.
Todt's candidacy was supported by Mosley himself, so no big surprise here. He took 135 votes against Vatanen's 49, with 12 abstentions.
After a successful rallying career, Todt made his name as a manager first with Peugeot, taking them to back-to-back Le Mans titles in 1992 and 1993, then with Ferrari, where he was the head of the Ross Brawn–Michael Schumacher–Rory Byrne machine which dominated the sport for close to a decade.
Flanking Todt above is Bond girl Michelle Yeoh, his current partner. Yes, the French have excellent taste.
Source: BBC
Photo Credit: Mark Thompson/Getty Images