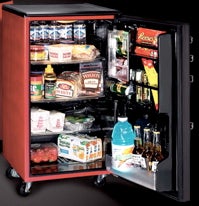 No one likes to be troubled with getting a beer from inside whilst in the middle of serious repairs, but there's something about a yellowing Frigidaire that sort of ruins the feng shui of most garages. That's where the Microfridge Garage Refrigerator enters the picture. This 53 cu-in fridge mimics the black and red exterior of typical garage storage yet holds a world of gastronomical delights within. At just $299.00 (plus $65.00 s/h) it's a steal! Product details below:
Original Garage Refrigerator
Product Code: MFRA4GF
Beverages on Wheels for the Garage and Workshop
Single-door 4.4 cu. ft. 100% refrigerator ENERGY STAR rated - uses only 325 kWh annually.
Product Features:
* Toolbox red exterior with rugged door pulls
* Door lock
* Heavy-duty, locking casters
* Durable, easy-clean counter top surface
* Lighted interior
* Dispense-A Can can-stacker
* Upright storage of 2-liter & 1/2 gallon bottles
* 3 full-width shelves
Product Details:
* Fridge Capacity: 4.4 cu. ft.
* Height: 37 in. (with casters)
* Width: 18.625 in.
* Depth: 22.625 in.
* KWH Per Year: 325
* Weight: 55 lbs.
* Shipping Weight: 62 lbs.
[Source: Garage Fridge]