We told you guys not to hack electronic road signs to say "Jalopnik Rules." But you went ahead and did it anyway. You do know this is why we can't have nice things, right?
If this sign spotted near Bellevue, WA is to be believed, our plea to readers not to hack electronic road signs and write "Jalopnik Rulez!" and "Zombies Droolz!" has fallen upon deaf ears. Although we guess maybe we didn't make it clear enough that it also included alternate spellings.
Our gallery of Jalopnik-flavored hacked electronic road signs below, and the complete hacked road sign gallery below that. (Hat tip to Ryan, Bruce!)
G/O Media may get a commission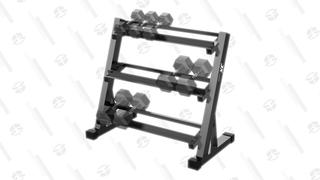 20% Off
JX Fitness Dumbbell Rack
Gains but tidy
Has a three-tier design to help store more weights more conveniently, can safely support up to 1000lbs of weight, which should be enough for most people, has a triangle base for stability, and also features anti-scratch feet which is great if you've built your own studio or workout in your garage.