Sounds like BMW has just patented designs for two carbon fiber motorcycle frames, along with plans for efficient assembly. Apparently one would fit sport bikes specifically, while the other could be worked into a more diverse range of body styles.
Motorcycle News says the performance-oriented beam frame will be made of "eight lengths of 'pultruded' carbon fiber" which they explain involves making long tubes of the stuff that are put into place while "partially cured" so they're more malleable during assembly. I suppose that might give designers more flexibility in shaping the frame.
It's reported that the "more adaptable" frame will be a trellis design made of small sections of hollow tubes, connected together at junctions.
We haven't been able to find the patent ourselves in American, British, or German government searches but Motorcycle News included this image that does indeed seem to illustrate a carbon-framed BMW sport bike. We've reached out to them and BMW to try and track down more specifics.
Meanwhile, it doesn't seem surprising that somebody's experimenting with carbon fiber in this application. Especially since BMW's already successfully put carbon frames/"passenger cells" on their i3 and i8 electric cars, and not to mention the fact that this material is getting popular in high-performance bicycles.
G/O Media may get a commission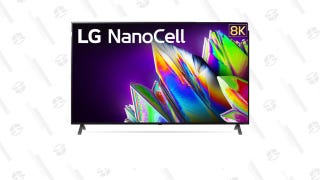 LG 75-Inch 8K TV
---
Contact the author at andrew@jalopnik.com.