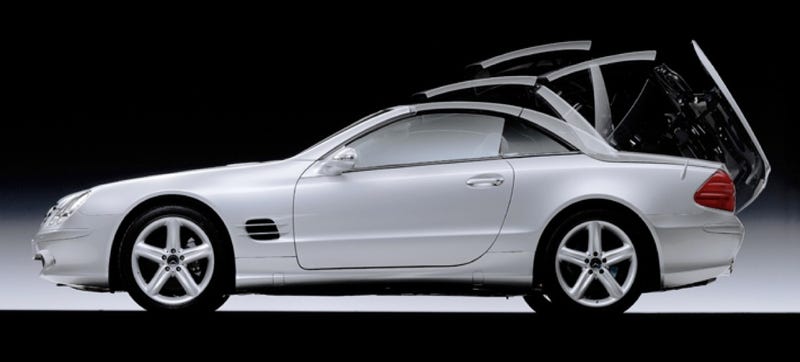 The Mercedes SL is a pretty iconic car, but the folding hardtop that's been fitted to the two most recent generations of the roadster has also been a key selling point among other high-priced luxury convertibles. But recent news suggests the days of the SL's retractable hardtop are numbered.
Autobild reports Mercedes is looking to cut lots of costs with the next-generation SL and SLK roadsters, as sales of these two-seaters have tanked since the recession. So not only are they trying to find more commonality in parts between these cars and other Mercedes models, but they're also concerned about weight and complexity.
The casualty here is that the next SL will reportedly lose the folding hardtop and go back to an electrically operated fabric roof last seen on the R129 models produced from 1989 until 2002.
While the folding hardtop roadster has become a Mercedes thing in the last 20 years or so, the packaging of such a big roof and the weight it adds in times of fuel consumption worries apparently makes it impractical even for a big, luxury cruiser like the SL.
Weirdly, the SLK is advancing that trademark folding hardtop technology as well as trying to be a better rival for the Porsche Boxster.
Of course, Autobild says a new SLK isn't due until 2020, and the next-gen SL not until 2021. So if you like the idea of a hardtop SL, you have some time to see if they rectify that huge nose of the current car before snagging one.
Photo: Mercedes-Benz