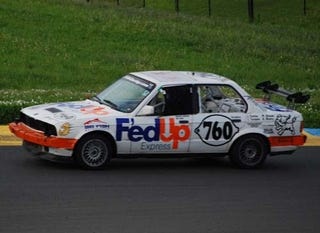 A wild day at the Sears Pointless 24 Hours of LeMons… so wild, in fact, that I couldn't get a complete standings list before the other LeMons carnies hosed out the Tilt-a-Whirl and hopped a freight out of town.
We were all pretty shaken up when the ONSET Cavalier wagon hit the wall, flipped, and burned early in the afternoon, especially when the driver had to be taken away in an ambulance with possible vertebrae injury. The roll cage did its job, the ONSET driver got out of the car before the fire got serious, and we're all doing some heavy-duty hoping that he'll be all right.

Anyway, the car at the top of the standings at the end of the day's racing session is the F-ed Up POS Delivery BMW 325iS. Not far behind is the Krider Racing Integra and the Eyesore Racing Miata. Many others done blowed up and most have received vast numbers of black flags; there's no telling who will be leading by Sunday afternoon. Check in later for more updates.