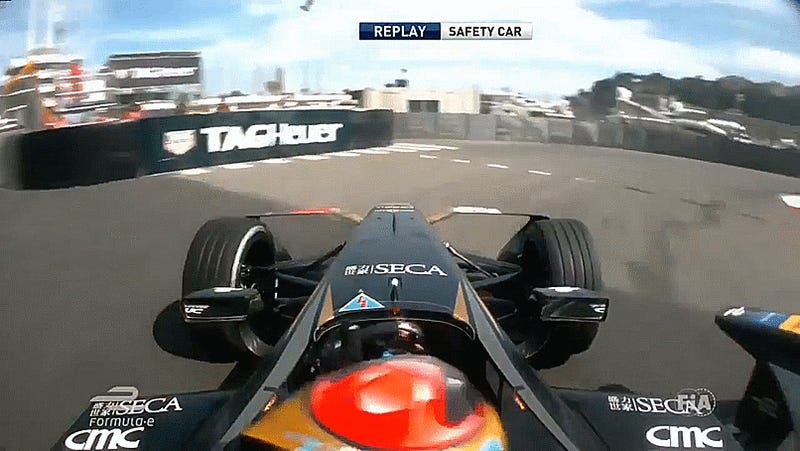 Today, Formula E went to the narrow, windy streets of Monaco on a shortened version of its iconic course, where passing is still as tough as it gets. I'm not sure I can think of any alternate universe where this crazy red mist pass attempt around the outside would actually work.

Sometimes "red mist" is good! It can nudge you, as a more timid amateur racer, to take risks you previously weren't able to work up the guts to do. But most of the time when we see it on TV, it's the cause of some silly lapses in judgement on track, and that's what we have here.

Techeetah driver Jean-Eric Vergne was tired of being behind the NextEV NIO car of Nelson Piquet Jr., so he just went for it at Turn 3 of the course, man. This is the part where the Formula E course rejoined the traditional F1 circuit: at the little chicane that F1 cars reach as they rip out of the tunnel.

Vergne dove around the outside of Piquet and tried so hard to hold it. He briefly got a nose ahead! But just looking at this little loop on the track map—there's no way he was going to hold that turn side-by-side with Vergne in relatively evenly matched Formula E cars, especially with both cars trying to feed around into the exit of the loop past Turn 4.

Vergne got sandwiched between Piquet and the barrier, and ended up bringing out the safety car near the mid-point of the race.

Sébastien Buemi went on to win his fourth race out of the five that have happened this season, a mere 0.3 seconds ahead of his tailgater for the last lap, Lucas di Grassi.

[via WTF1]