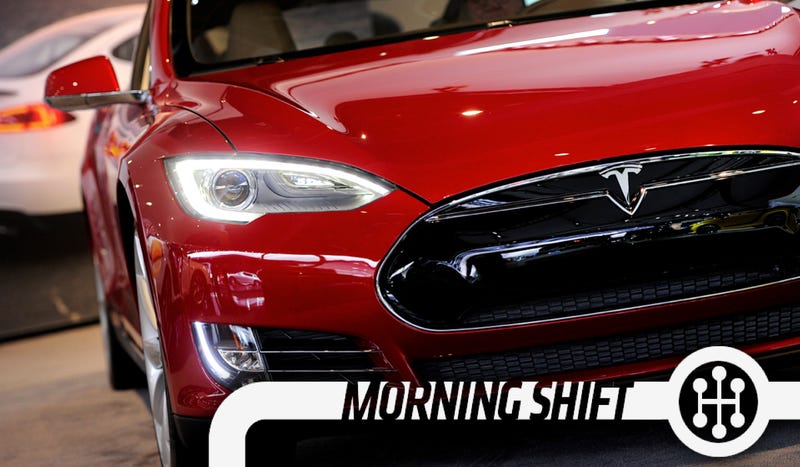 The Morning Shift
All your daily car news in one convenient place. Isn't your time more important?
This is The Morning Shift, our one-stop daily roundup of all the auto news that's actually important — all in one place at 9:00 AM. Or, you could spend all day waiting for other sites to parse it out to you one story at a time. Isn't your time more important?
It's April 1st. All of these stories are, to my knowledge, real. I'm not doing an April Fool's Day thing and no one else here will. With the exception of the BRZ thing (which was funny mainly because they released it three days early), we're ignoring it as best we can.
If you're reading another site and are curious if a post is a joke or not, then you should just look to see if they quote anyone. If they do, it's probably a joke. Few people in this industry ever call.
1st Gear: Tesla Is "Profitable" As It Kills The 40 kWh Model S
Tesla Motors has reached what they call "full profitability" in the first quarter of 2013 according to Bloomberg (via Automotive News). This was on sales they say exceeded 4,750 units.
What does profitability mean? We don't know. The company is still in debt, obviously, but a quarterly profit is a good thing. How are they doing this without, you know, catching up on deliveries? It's all very curious.
The real news buried in this vague promise of profitability is that the long-promised 40 kWh battery — i.e. the $50,000 Tesla — is being killed. That's a damn shame, because when the government invested in Tesla it was with the promise of building a car regular people could theoretically afford as opposed to merely expensive electric cars for rich folks.
There were headlines like "Tesla Comes Through With sub-$50,000 Model S, Mostly" and promises like "Tesla Model S: $50,000 EV Sedan Seats Seven 300-mile range, 0-60 in 5.5s."
And here's my favorite. Motor Trend gave the Model S their Car Of The Year and made this argument:
Value With a base price of $58,570 (before a federal tax credit of $7500), the 40-kW-hr Model S is competitive with entry-level Mercedes-Benz E-Class, BMW 5 Series, and Audi A6.
The value argument, I think, still holds up, as a fully-loaded Tesla is on the level of other luxury sedans it's obviously competitive with (an argument Motor Trend also makes). What doesn't hold up as an argument is that the sub-$50K car is being axed because of lack of demand. From Tesla:
Also being announced today is that the small battery option for the Model S will not enter production, due to lack of demand. Only four percent of customers chose the 40 kWh battery pack, which is not enough to justify production of that version. Customers are voting with their wallet that they want a car that gives them the freedom to travel long distances when needed.
I call bullshit. Tesla never seriously marketed the 40 kWh car. They didn't EPA test it. They didn't ever make it seem like they ever wanted anyone to buy it. It never got close to production. For all the media hype about it, Tesla is still trying so hard to catch up with the 60 kWh and top-of-the-line 85 kWh models.
This also completely goes back on one of the promises of Tesla, which was to be profitable building cars a relatively normal family could afford. This is a failure being wrapped up as a success and I can't wait to see how many media outlets fall for it.
If you were one of the few people who ordered a 40 kWh model, Tesla is going to take care of you by giving you a 60 kWh model with a software-limited range (that you can pay more to have turned up to 60) and a built-in Supercharger. That's a pretty good deal for you.
Also, and this is going to sound crazy given that I just spent all this space bitching about it, but this is probably much better for Tesla. Engineering the 40 kWh model was going to cost money and it was going to cut into their opaque profitability. For all we know, they'd have lost money on the models. They can't afford to do that if they want to maintain the idea of profitability or reach actual profitability.
Everyone who wrote about a $50,000 EV got taken, though. I'm sure we did at some point.
2nd Gear: Hyundai Considering A Pickup
Hyundai is considering building a pickup for the U.S. Market reports Automotive News. They're very early in the discussions and the expiration of the Chicken Tax comes in 2021, which means we're far away from getting anything. The Kia Soulster is as close as we can get to picturing one.
3rd Gear: Fisker Hires Restructuring Lawyers
As we reported, Fisker is screwed and has apparently hired restructuring lawyers to get ready for a possible bankruptcy.
A Department of Energy spokesman said it "is committed to the best outcome for taxpayers." Fisker's equipment and property are pledged as collateral on its loan, so the U.S. government would likely control the company in the event of a bankruptcy-protection filing.
4th Gear: Gas Engines Catching Up On Diesels
Karl Henkel says in today's Detroit News that gasoline engines are catching up with their diesel counterparts in terms of efficiency. This, as more and more diesel engines enter the marketplace with increasing sales.
What's going on here, of course, is the diesel-azation of gasoline engines with higher compression, turbocharging, and direct injection.
5th Gear: UAW Members Is Up
After years of prolonged period of decline, membership in the United Auto Workers is up for the fourth consecutive year, which will sound surprising to many.
Obviously, the improvement in the industry and increased hiring by The Big Three in traditional locales in Michigan, Illinois, and the Midwest is helping. Ultimately, though, membership is still at about the 25% it was at its peak in 1979.
Reverse: Alan Kulwicki Dies In A Plane Crash
On April 1st, 1993, NASCAR driver Alan Kulwicki and three others died in a plane crash before the Bristol Food City 500. He'd won the championship the year before as a driver/owner and was a two-time winner at Bristol. It was a major blow to the sport and it's definitely worth reading the linked remembrance. [Bristol Motor Speedway]
Neutral: Foolish
Do you have a favorite automaker April Fool's attempt? Drop it here.
Photo Credit: Getty Images