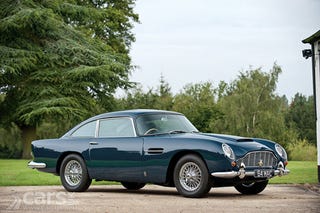 We brought you some celebrity car news earlier today with Bristol Palin's Dodge Challenger apparently being for sale, but this piece of news offers a much higher quality of both car and celebrity.
It seems that Paul McCartney's sexy navy blue 1964 Aston Martin DB5 recently sold for auction in London for £307,000, which is about $490,000 in 'Murrican money, according to this report in CarsUK.net. It's a great time to unload such a car, considering the fact that the original DB5 is apparently making a comeback in the new 007 film "Skyfall."
Of course, McCartney's former whip is loaded with all the accoutrements you'd expect from one of the world's biggest rock stars. It has a leather interior with music notes stitched in, a Motorola radio and a built-in record player that could spin 45s. (I wonder why in-car vinyl hasn't made a comeback, especially among the hipster crowd.)
This Aston's pretty hot. How much would you pay for one?
Photo credit CarsUK.net
H/T Autoblog