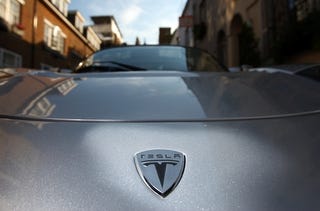 Tesla Motors reported a loss of $34.9 million for the third quarter, with sales down to $31.2 million from $45.5 million. Guess there's not much of a growing market for over-priced electric kit cars. How long can this keep up?
Apparently, if you listen to Tesla Motors CEO Elon Musk, they'll be able to spend forever until they can build the still-vaporware Model S Sedan:
"Given Tesla's plans to spend heavily in the next nine quarters to get the Model S sedan into production, attaining quarterly profitability isn't a goal. We're very focused on long-term profitability."
And, since Musk is still claiming the Model S sedan remains on track for a mid-2012 launch, we guess that means at least another five or six quarters of $30 million-plus losses. We're wondering how long investors will stay on a ship bringing on that much water.
Photo Credit: Gareth Cattermole / Getty Images Entertainment